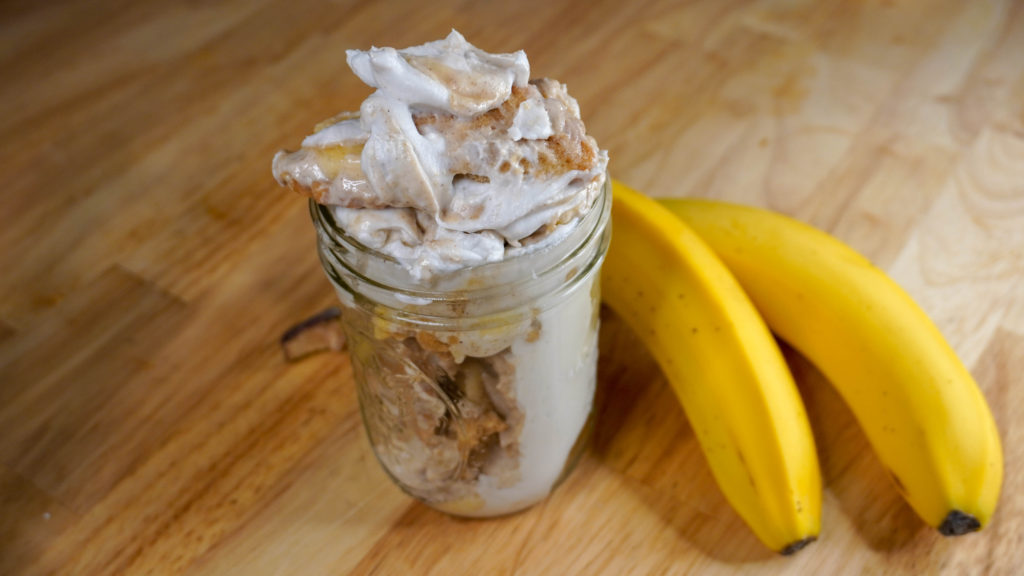 INGREDIENTS:
For Pudding:
1 cup sugar
1 cup plant milk of choice
1 tbs arrowroot starch
2 cup vegan cream cheese
1-2 mashed bananas
1 tbs vanilla extract
1/2 tsp nutmeg
1 tsp cinnamon
4-5 bananas
Vegan vanilla wafers or shortbread cookies
Coconut Whipped Cream :
2 cans solidified coconut cream
1 cup powdered monk fruit sweetener or sugar
1 tbs vanilla extract
INSTRUCTIONS
For pudding, In a medium pot, add the sugar and plant milk. Whisk until sugar has melted then turn off the heat and add the arrowroot starch and with until there are no clumps. Set aside. In a large bowl add the cream cheese, cinnamon, nutmeg, mashed bananas and vanilla along with the melted milk mixture. Whisk until smooth and combined. In another large bowl, add the coconut cream along with the sugar and vanilla and whisk vigorously until it is light, airy and creamy. Then in a large baking dish add a layer of cookies followed by sliced bananas then pudding. Repeat until all had been used sand finish a thick layer of the whipped cream spread over top. Cover with plastic wrap and chill in the fridge for at least 4 hours, ideally overnight. Serve and enjoy.