This is one is packed with flavor and I truly had a good time making it. It's also very easy, doesn't require a lot of ingredients and really fun to make. Tap in!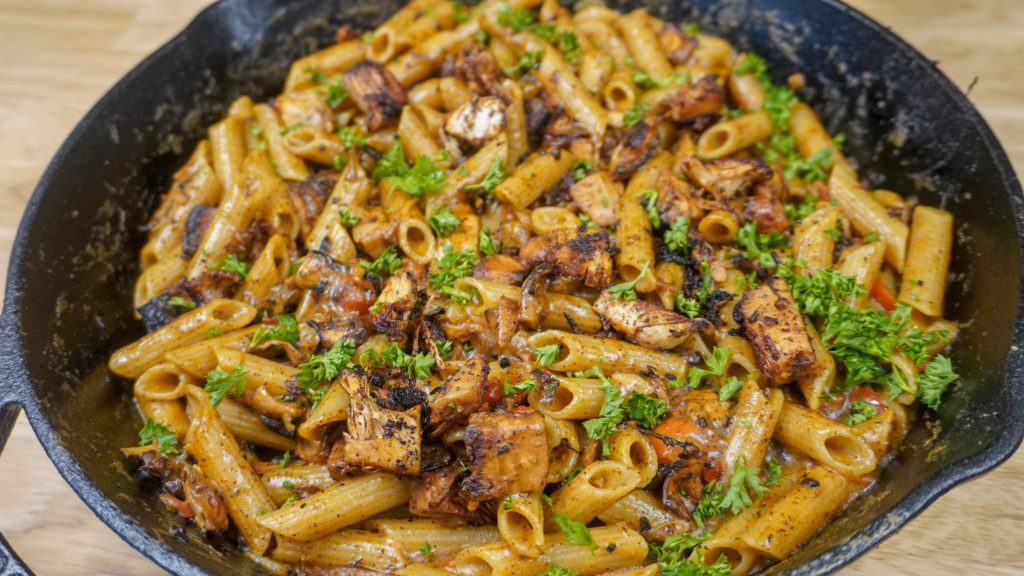 INGREDIENTS
12-16 oz penne pasta
2 cans drained and rinsed jackfruit
1/2 of a chopped red bell pepper
1/3 of a chopped white onion
1 can coconut milk
1 cup vegetable stock
2 tbs cajun seasoning
2 tbs chopped fresh garlic
1 tsp onion powder
1/2 tsp dried oregano
1/4 tsp fresh thyme
1/2 tbs ground coriander
1/2 tbs black pepper
Fresh parsley to garnish
INSTRUCTIONS
Drain and rinse jackfruit, then in a large bowl add all seasonings, stir or toss to coat and set aside for at least 30 mins to marinate. Chop bell pepper and onion. Bring a pot of water up to boil for pasta. Reserve 1/4 cup of pasta water. Once marinated, sear off jackfruit and let cook for 10-15 mins on med-hi heat until slightly charred. Once cooked fully, remove jackfruit from pan and in the same one add some vegan butter or some avocado oil then sauté the bell pepper and onion until slightly translucent. De-glaze with the coconut milk, veggie stock and the reserved pasta water. Let simmer until sauce thickens. Season to taste. Add in pasta and toss to combine. Top with your jackfruit and fresh parsley and enjoy.