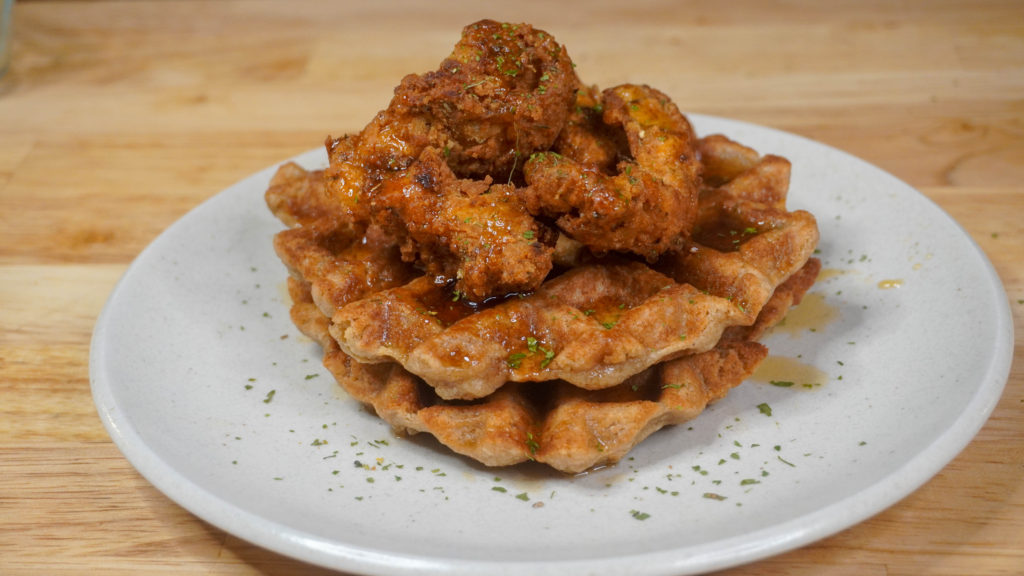 A classic combo that simply can't be matched but can recreated with a plant baaed take and that what's makes it even more special. You NEED to try this at least once (or more)!
INGREDIENTS
Oyster Mushrooms
For wet batter:
3 tbs ground flax seed
1/3 cup water
1 tbs mustard
2 tbs hot sauce
For dry batter:
1 1/2 cup chickpea flour
1 tsp salt
1 tsp black pepper
1 tsp onion powder
1 tsp dried thyme
1 tsp smoked paprika
1 tsp garlic powder
For Waffles:
2 tsp baking powder
1/2 tsp salt
1 1/2 coconut sugar
1/4 cup vegan butter, melted or coconut oil
1 cup almond milk
1 1/2 cup flour
1 tsp cinnamon
INSTRUCTIONS
Combine ground flax, water, hot sauce, and mustard in a small bowl, mix and set aside. Combine all dry ingredients, whisk and set aside. Separate mushrooms and coat in wet then dry batter 2 times each until mushrooms are complete. Fry in Avocado oil until golden and crispy and set aside. For waffle combine all ingredients and mix until combined but don't over-mix! Having lumps is ok. Cook waffles to your waffle maker specifications. Assemble, top with maple syrup and enjoy.