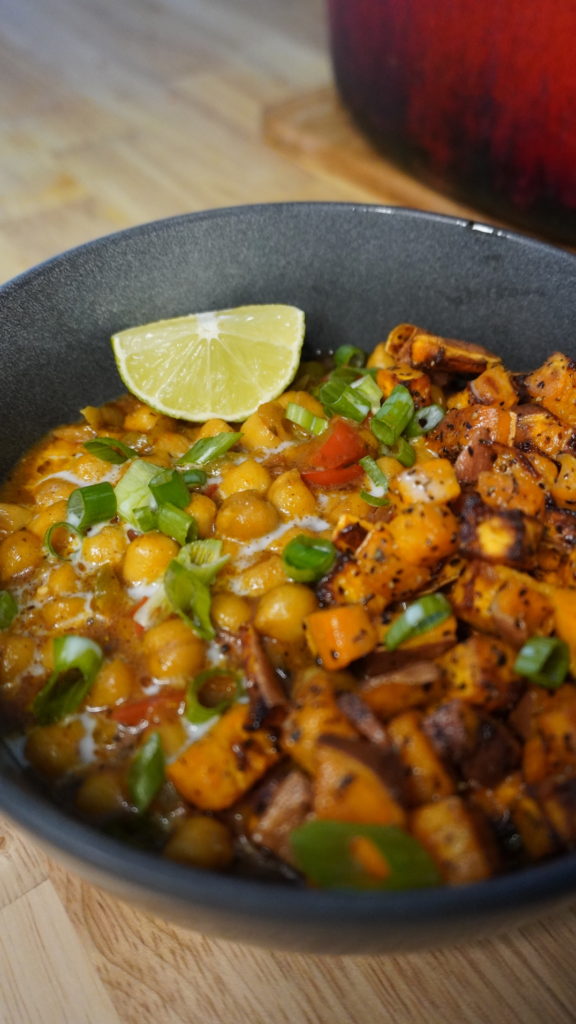 INGREDIENTS:
2-3 Cups of Chickpeas
1 1/2 Sweet Potatoes
1 Head of Cauliflower
1/2 Red Onion
1/2 Bunch of Parsley
1/2 Cup of Coconut Oil
3-4 Cups of Coconut Milk
1 Ripe Plantain
1-2 TABLESPOONS EACH: Turmeric, Garlic Powder, Onion Powder, Cumin, Himalayan Pink Salt, Black Pepper, Allspice
1/2-1 Teaspoon Cayenne
INSTRUCTIONS:
Boil some water in a large pot while you peel and chop sweet potatoes. Once processed, simmer sweet potatoes until they are tender and soft. Strain and set aside. Process the rest of your veggies of choice. Melt coconut oil in the bottom of the pot on medium heat. Once melted add seasonings in and mix to form curry paste. Once pastes is formed. Add in processed veggies and sautee until soft (*optional* cover pot to steam for quicker softening). Then add in chickpeas and sweet potatoes and mix together. Once mixed, add in coconut milk, mix and let simmer until desired thickness. While curry simmers, peel and slice plantain and fry until golden brown. Set aside on paper towel lined plate. Once curry reaches desired texture, serve in a bowl with plantains on the side and enjoy!