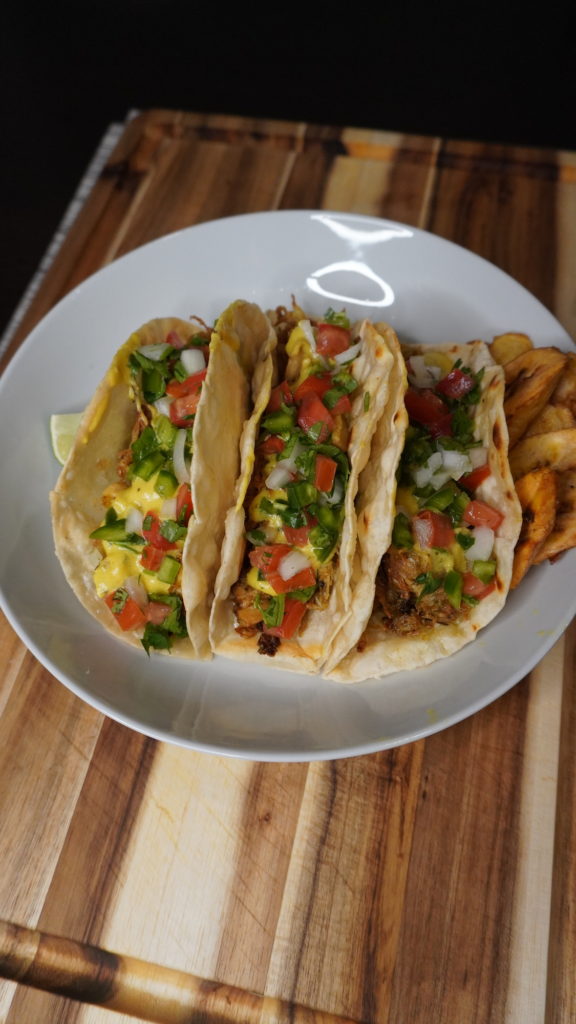 INGREDIENTS:

2 cans of green/young jackfruit
1/3 white onion
1/2 bell pepper
Couple pinches of fresh cilantro
1-2 tsp each of:
Salt
Pepper
Garlic
Curry Powder
Cayenne
Smoked Paprika
Coriander
Vegan cheese of choice
Tortilla of choice
One green plantain for tostones on the side (optional)

INSTRUCTIONS:

Prep jackfruit by boiling for 10 mins (to remove brine flavor) and shredding. Sauté peppers and onions in a pan then add jackfruit (I saved a little raw peppers and onion to add on top after). Add seasonings, and cook until crispy. Heat your tortillas and and add jackfruit mix along with peppers, onions, "cheese", cilantro, lime wedge and whatever other toppings you want, as well as tostones (optional). Serve and enjoy!