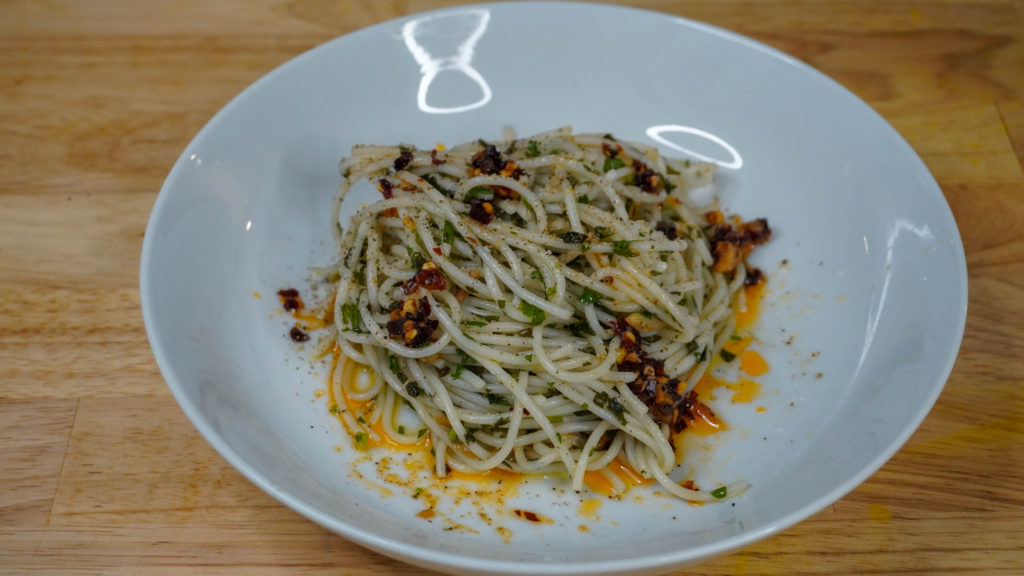 When I want something quick but packed with flavor, I prepare my go-to recipe, garlic and herb pasta. This inspired by a dish called "Aglio e Olio" which features chopped parsley and chili flakes but I prefer basil so much more and i wanted to amp things up with my homemade chili oil. Try this ASAP!
INGREDIENTS:
Pasta of choice
1 head of garlic, sliced
1 tbs red chili flakes or chili oil
1/2 cup Extra Virgin Olive Oil
Squeeze of lemon
1 cup chopped basil
1/4 cup pasta water
Salt and pepper to taste
INSTRUCTIONS:
Bring pasta to a boil. Meanwhile peel and slice garlic, chop herbs. On a med-low heat fry garlic in the olive oil. Once the garlic starts to slightly go brown, add the red chili flakes and turn off the heat. Once pasta is done add to the oil along with the herbs and pasta water and fold together. Salt and pepper to taste, add a squeeze of lemon and extra chili oil or red chili flakes and enjoy.