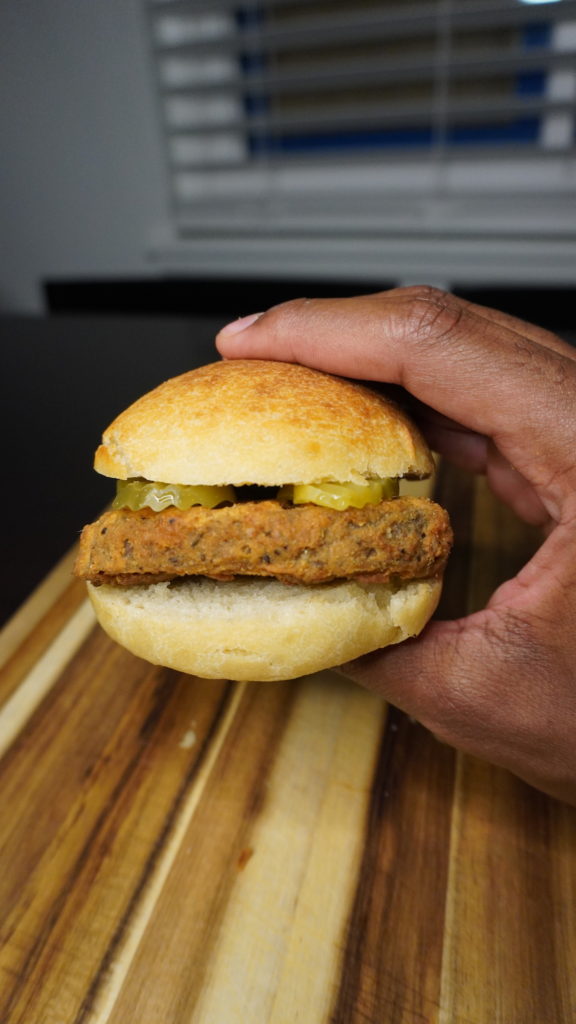 INGREDIENTS:
1-2 Sliced portobello mushrooms
1/4 Cup of ground flax seeds
1 & 1/4 Cup of water
3-4 Cups of chickpea flour
1/2 Cup of hot sauce
2 tablespoons of mustard
Dill Pickles (optional)
1-2 tsp each of seasonings of choice
INSTRUCTIONS:
In a bowl, take ground flax seeds and combine with water. Set to the side for a few minutes to thicken. Meanwhile in another mixing bowl, add 1-2 tablespoons each of your desired seasonings to the chickpea flour and whisk together. After the flax seeds have thickened add in your hot sauce and mustard. Whisk together. After combined, begin frying the mushrooms. Coat mushrooms in wet and dry mixes 2x each and fry for 5-7 minutes on med-hi heat or until golden brown. Assemble sandwich and enjoy!