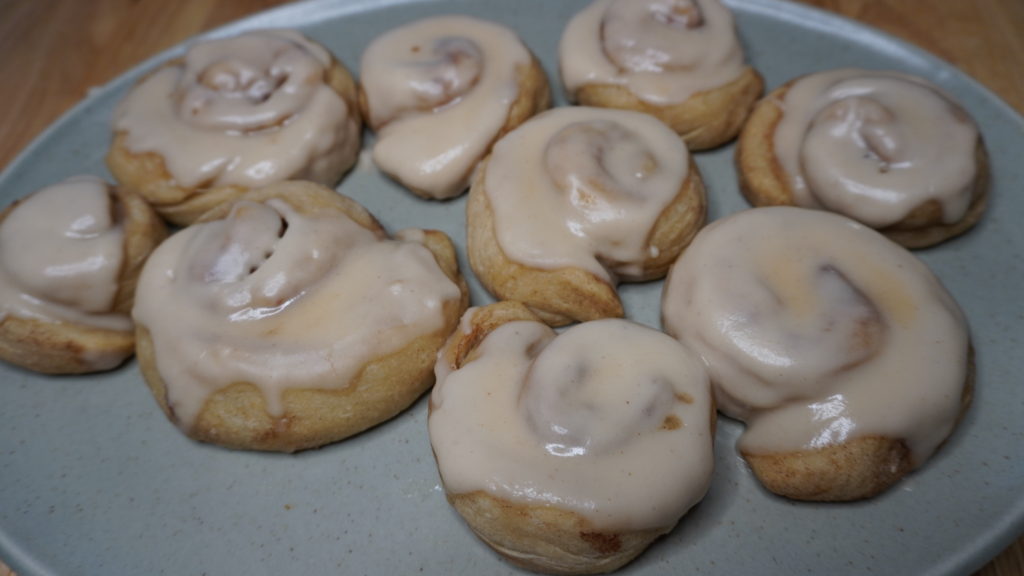 INGREDIENTS
Dough:
2 cups plant milk
1/2 cup melted vegan butter
1 1/2 tbs sugar
1/3 cup honey
2 tsp yeast
1 tsp salt
4 cups flour
Cinnamon sugar to coat buns
Icing:
1/2 powdered monkfruit sweetener (or sugar)
1-2 tbs plant milk to loosen/thicken
Splash of vanilla
INSTRUCTIONS
To a large mixing bowl add the plant milk, honey, vegan butter, sugar, salt and active fry yeast. Whisk to combine and let yeast actively for at least 5 mins. Then add in flour and mix until workable dough forms. Transfer to a lightly oiled bowl and let proof for 1-2 hours. Once proofed, transfer to a lightly oiled work surface, spread out the dough with your hands to a large rectangle. Cut out desired amount of squares, roll them into thin logs and coat one side with vegan butter and cinnamon sugar, roll them up and set aside on a baking tray to rest for another 30 mins while you repeat with the rest. Bake at 400°F for 15 mins. Meanwhile prep the icing but add all ingredients to a bowl and whisking to desired consistency. Top buns with icing and enjoy.