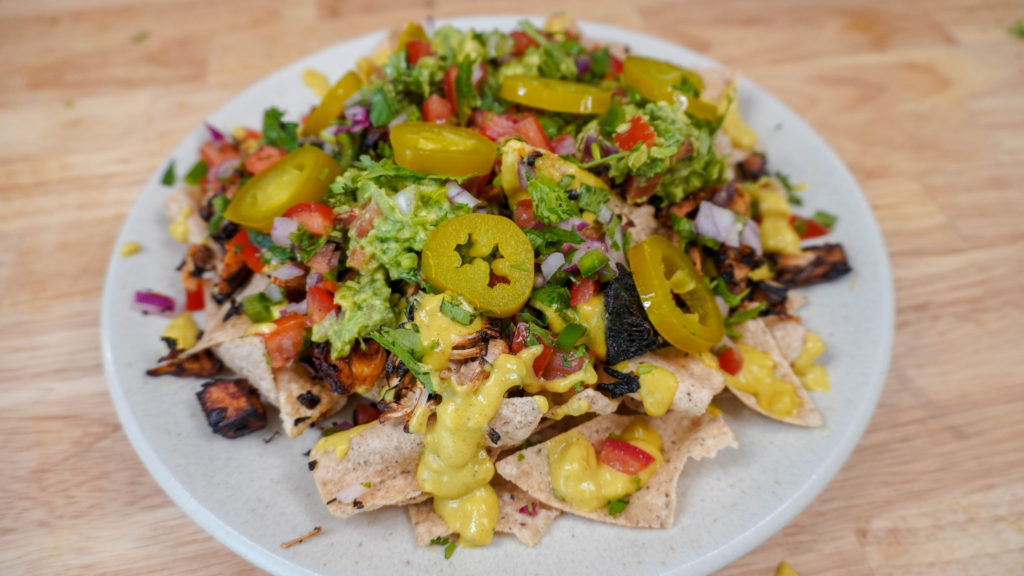 LOADED JACKFRUIT NACHOS
INGREDIENTS:

For Chipotle Jackfruit
2 cans young jackfruit
1 tbs minced garlic
1 1/2 tsp salt
1 1/2 tsp onion powder
1 1/2 tsp smoked paprika
1 1/2 tsp dried thyme
2 tsp paprika
2 tsp crushed chipotle Pepper
4-5 tbs olive oil
For Guac
2 Avocados
1/2 diced jalepeno
1/4 cup diced red onion
1/3 cup chopped cilantro
Lime juice
Salt + pepper to taste
For pico de gallo:
2 roma tomatoes diced
1-2 diced jalapeño
1/4 diced red onion
Salt to taste
Juice of a lime


For "Cheese":
3 cloves of minced garlic
1/2 onion, chopped
1 can of full fat coconut milk
1/2 cup cashews
1 & 1/3 cups of plant milk (recommend unsweetened almond or cashew)
1/2 cup of Nutritional yeast
Salt & pepper to taste
1 tbs vegan butter (optional)
1 tbs turmeric (for color, also optional)

INSTRUCTIONS:

Combine all jackfruit ingredients and set aside to marinate for at least 30 mins, then sauté in a pan on medium high heat until crispy. For "cheese", Prep garlic and onion. Put plant milk, cashews, and nutritional yeast in a blender, process until combined. Set aside. Sweat garlic and onion in separate pan. Strain off cheese sauce mixture into the pan and add the coconut milk. Season with salt, pepper and a little turmeric (for color). Simmer until thick enough to coat the back of a spoon and leave a trail when a finger is run through it (it will also thicken the longer it sits). Set aside on low heat. For pico and guac, chop all ingredients and combine. Season to taste. Assemble nachos and serve.