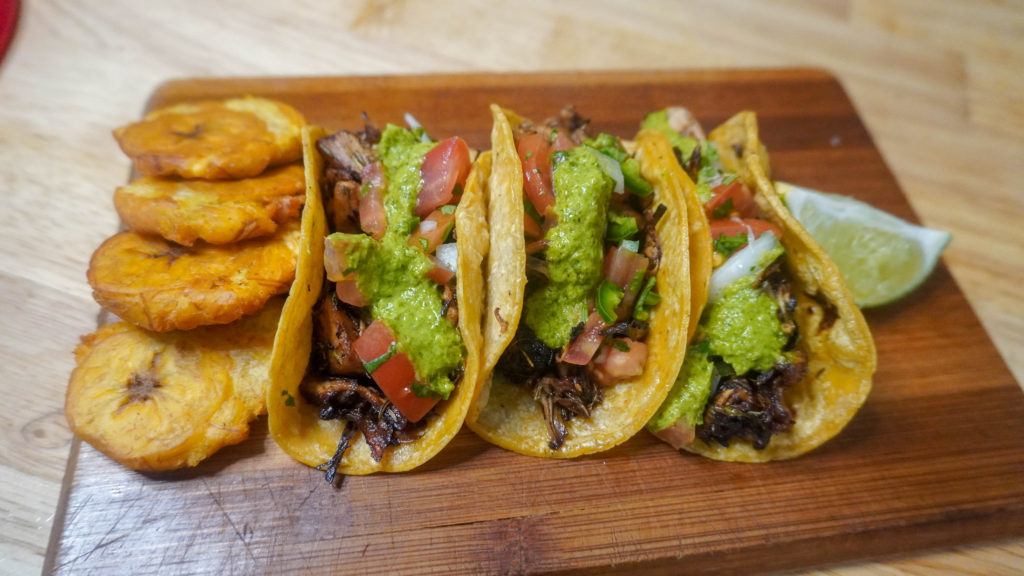 Ill say this combo of flavors came together way better than I anticipated. Fusion at its best. Try this ASAP!
INGREDIENTS
Jerk Jackfruit:
Tortillas of choice
2-3 cans of young jackfruit
2 tsp allspice
2 tbs fresh garlic
2 tbs browning liquid (optional)
3 tbs thyme
2 tsp salt
2 tsp pepper
2 tsp onion powder
1/2 tsp cinnamon
1/2 tsp cayenne
Pico:
4 roma tomato
1/3 white onion
1 jalepeno
Squeeze of lime
1/4 bunch of cilantro
Salt & pepper to taste
Green sauce:
1/2 bunch of cilantro
1/3 cup nutritional yeast
1/4 bunch of scallion
1 garlic clove
1/4 cup extra virgin olive oil
Squeeze of lemon
Salt & Pepper to taste
INSTRUCTIONS
Add in all seasonings to drained and rinsed jackfruit and let marinate for at least 30 mins. Meanwhile chop your pico ingredients and add to a bowl, mix to combine and set aside. Then add all green sauce ingredients to small food processor and process to combine, taste and adjust seasoning in needed. Once jackfruit is marinated, cook over med-hi heat until for about 10-15 mins or until nice crust from and becomes slightly charred. Assemble tacos and enjoy.