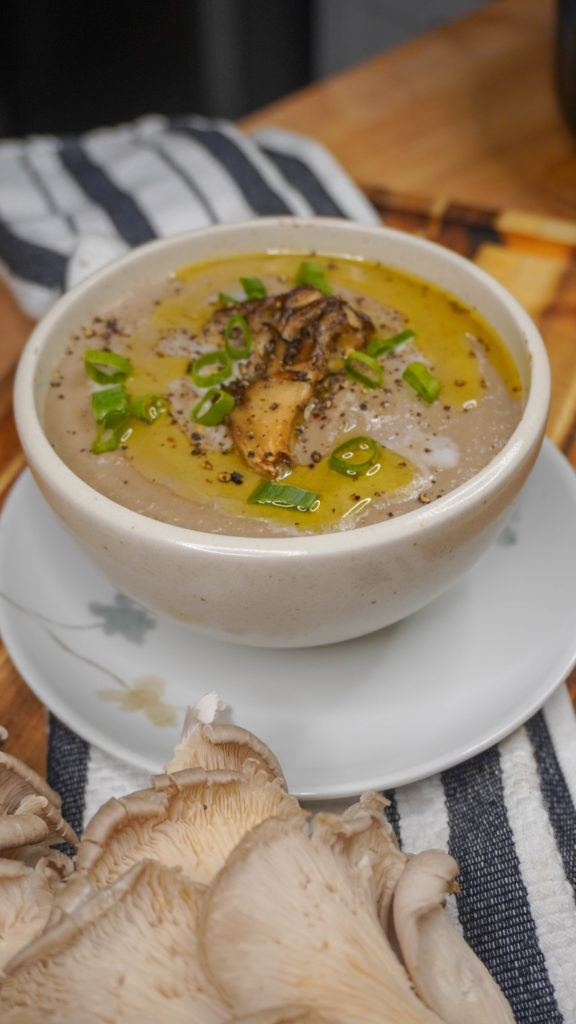 If you're a mushroom lover like I am you will love this take on a hearty and comforting Mushroom Bisque! Using @pacificfoods Organic mushroom broth it was able to take the soup to a new level adding layers of umami and deep flavor throughout! While its still cold out cozy up to this amazing soup ASAP!
INGREDIENTS:
2 cups baby bella mushrooms
2 cups oyster mushrooms
2 cups portobello mushrooms
1/4 of a maitake mushroom for garnish
1 quart @pacificfoods Mushroom Broth
1 sprig of thyme
1 diced shallot
5 chopped garlic cloves
1/4 cup coconut aminos to taste
1/2 cup coconut milk
Salt & pepper to taste
INSTRUCTIONS
Roughly chop all mushrooms, shallot and garlic. In a medium pot over med-hi heat add garlic and shallot and sauté until fragrant with a little bit of oil. Once, sautéed add in all chopped mushrooms and cook until they cook down and release moisture. Once cooked down, add in the broth, sprig of thyme, salt and pepper. Bring to a boil and simmer for 5-6 mins. Once boiled, transfer to a blender or use an immersion blender and blend until smooth. Sear the quarter slices of maitake with salt a pepper and serve over top. Serve and enjoy!