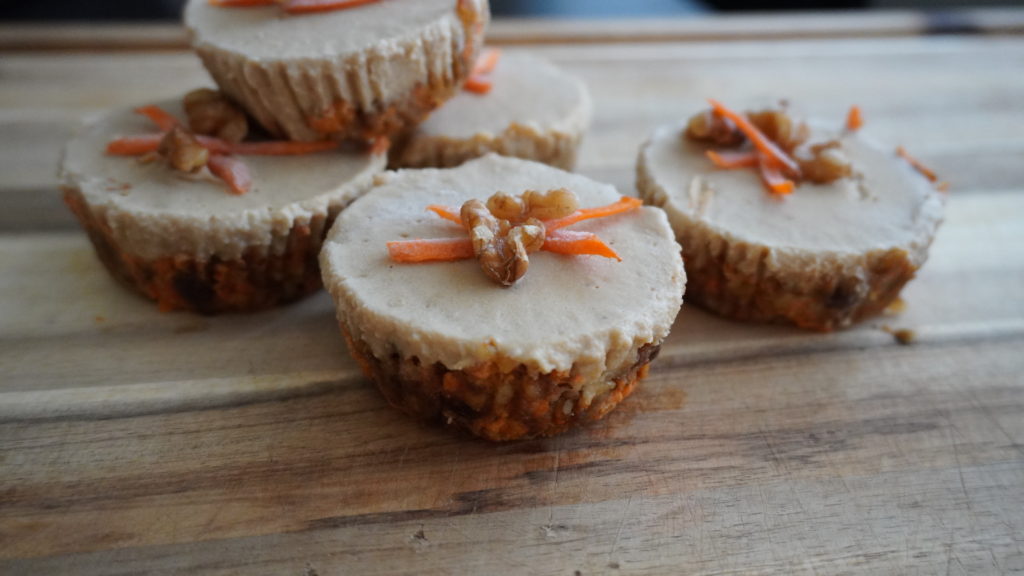 INGREDIENTS:
Crust:
1 cup medjool dates
1 tbs cinnamon
1 cup raw walnuts
1 cup shredded carrots
Pinch of salt
Filling:
1/2 cup coconut cream/milk
1/3 cup coconut sugar
4 tbs lemon juice
1 tsp vanilla extract
2/3 cup vegan cream cheese
1/2 cup almond flour/coconut flour
3 tbs arrowroot starch
INSTRUCTIONS:
Line a muffin tin with baking cups and set aside. In a blender or food processor, add in the dates and blend until roughly processed and still chunky. Remove dates from blender, add in walnuts, cinnamon, carrots and salt. Blend until roughly combined and all elements are still visible in the mix. Spoon mixture into muffin tin and pat down until packed tightly. In a blender add in all filling ingredients and blend until smooth. Pour mixture on top of each crust portion to cover completely. Once all cakes have been poured tap the tin on your counter to knock out all air bubbles and even out the mix. Set in freezer or fridge to set completely before serving (at least 2-4 hours). Let thaw partially before consumption.