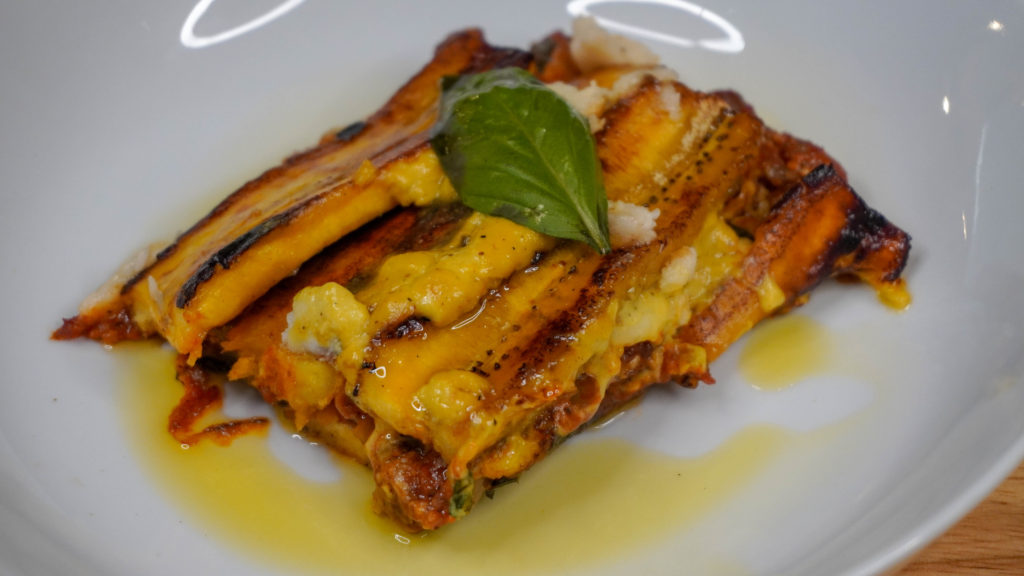 INGREDIENTS:
10-15 ripe plantains
16 oz of your favorite meat replacement (I used pumfu)
1 chopped bell pepper
1/2 of a chopped large onion
2-3 cups sliced mushroom
1 1/2 can/jar tomato sauce of choice
Homemade vegan cheese sauce to layer or your preferred shredded vegan cheese
½ cup chopped fresh basil
3-4 cloves of minced garlic
Salt and pepper to taste
"Cheese" Sauce:
3 cloves of minced garlic
1/2 onion, chopped
1 can of full fat coconut milk
1/2 cup cashews
1 & 1/3 cups of plant milk (recommend unsweetened almond or cashew)
1/2 cup of Nutritional yeast
Salt & pepper to taste
1 tbs vegan butter (optional)
1 tbs turmeric (for color, also optional)

INSTRUCTIONS:
Prep "cheese" sauce. Chop garlic and onion. Add plant milk, cashews, and nutritional yeast to a blender, process until combined. Set aside. Sweat garlic and onion in separate pan. Strain off blended mixture into the pan and add the coconut milk. Season with salt, pepper and a little turmeric (for color), add in vegan butter for richer flavor and to thicken slightly. Simmer until it coats the back of a spoon and leaves a trail when a finger is run through it. Then sauté chopped peppers, onion, garlic and mushrooms. Once sautéed, add tomato sauce, seasonings, basil and meat replacement. Set aside to simmer on low heat. Peel and slice plantains into semi thick strips (should yield about 4 strips per plantain). Fry plantains on both sides until golden and set aside. Assemble lasagna by laying down a layer of plantain covering the bottom of the baking dish followed by the tomato sauce, cheese sauce and repeat 2 or 3 times total. Bake at 355°F for 25 mins. Let cool and serve.