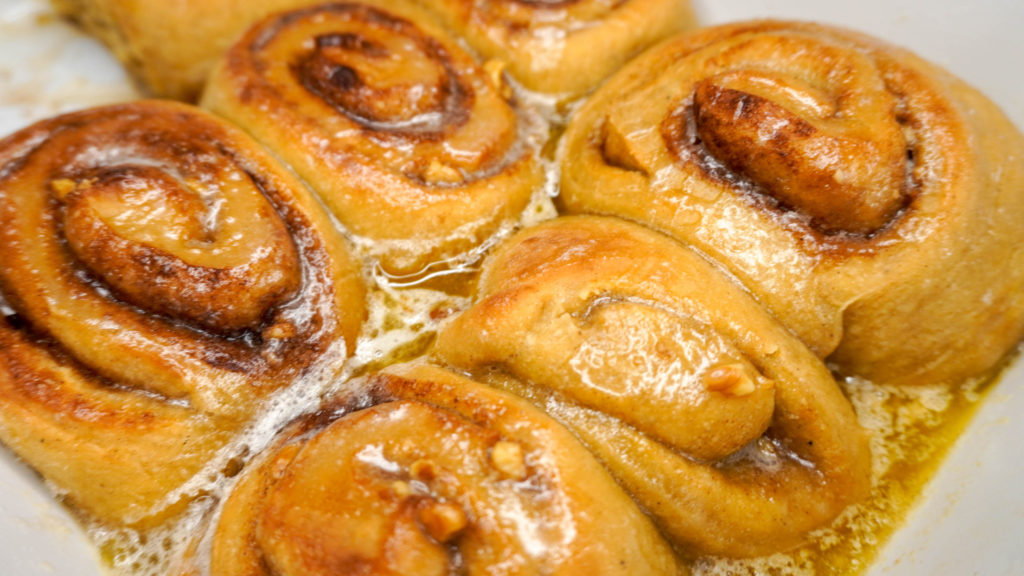 INGREDIENTS
Dough:
Dry
3 1/2 cups AP flour
1/3 cup monkfruit sweetener (or sugar)
1 tsp sea salt
1 tsp cinnamon
1/2 tsp allspice
1/4 tsp nutmeg
Wet
1/3 cup pumpkin purée
1/2 cup plant milk
1/3 cup melted vegan butter or coconut oil
2 tsp vanilla
Yeast
1/2 cup warm water or plant milk
2 1/4 tsp dry active yeast
1 tsp coconut sugar
Filling:
1/2 cup brown sugar
1/2 cup softened vegan butter
Cinnamon to coat lightly
1/3 cup chopped walnuts
INSTRUCTIONS:
In a small bowl, add the yeast, plant milk and sugar. Whisk together and seat aside to activate for 10-12 mins. Mix both wet and dry ingredients together in separate bowls.
Once yeast is activated add the west to dry in a large mixing bowl or stand mixer.
Mix until dough clean the sides of the bowl. Transfer from mixing bowl to greased bowl and cover with plastic wrap or damp towel to profound for at least 1 hour. After an hour, remove from bowl and roll out to a large
rectangle on a floured surface. Add the filling with a layer of butter followed by sugar, cinnamon and nuts. Roll the dough up into a large log and cut rolls with a sharp knife or bench scraper. Transfer to a greased baking dish and let proof for another hour. Once proofed. Bake at 350° F for 20-25 mins.
Meanwhile combine powdered monkfruit sweetener or sugar with a few tbs of plant milk and whisk to get an icing to top the rolls and enjoy!