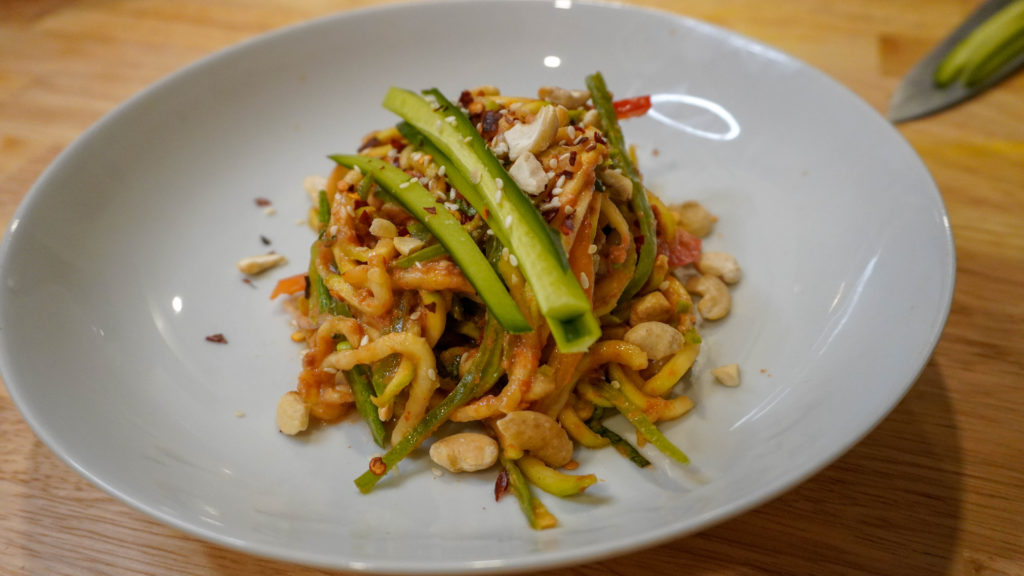 I've enjoyed incorporating more raw dishes in my routine lately. They're just as satisfying and leave you feeling fresh and nourished, not mention how easy and fast they come together being that there's no cooking involved! SAVE this post to try for a quick meal.
INGREDIENTS
For Noodles:
6 spiralized zucchinis
1 thinly sliced red bell pepper
10 snow peas thinly sliced
1 scallion thinly sliced
15 thinly sliced basil leaves
1/2 shallot thinly sliced
For Sauce:
3 tbs coconut aminos or soy sauce
1 tsp chipotle chili powder
1/2 cup sundried tomatoes
1 tbsp lime juice
1/4 cup raw almond butter
3 tbs maple syrup
1 clove garlic
1 inch ginger peeled
2-3 tbs water (if necessary)
INSTRUCTIONS
Place all of the spiralized veg noodles in a bowl. Add all the remaining chopped veggies to the bowl and set aside. Meanwhile prep the sauce by blending all ingredients together until smooth. Mix sauce, noodles and veggies together. Mix thoroughly until noodles are fully coated. Serve and optionally garnish with sliced cucumber and red chili flakes.