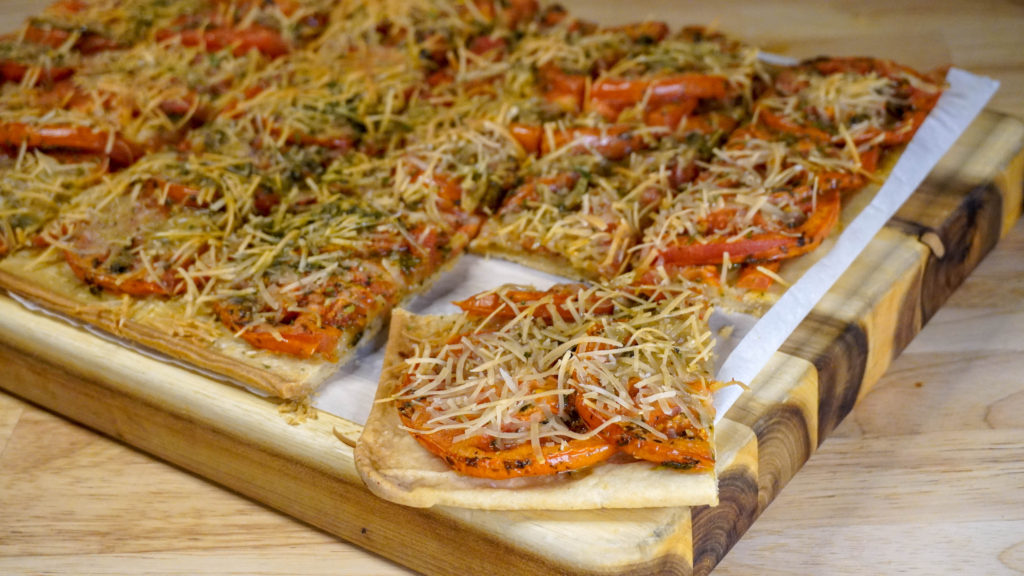 INGREDIENTS
For the crust:
2 1/2 cups all-purpose flour
1 tsp salt
12 tbs cold vegan butter
¾ – 1 cup ice water
For the filling:
2 & 1/2 pounds firm medium (2 1/2-inch) tomatoes
½ a bunch of parsley
1/2 cup fresh basil leaves
3 large garlic cloves
1 tbs fresh rosemary
1 tsp salt and pepper
1/2 cup extra virgin olive oil
6 tablespoons Dijon mustard
2 cups shredded vegan mozzarella or parmesan
INSTRUCTIONS
Add the flour and salt in the bowl of a food processor. Add the butter and pulse until the butter is the size of peas. With the motor running, add the ice water through the feed tube and pulse until the dough starts to come together. Dump onto a floured board and shape into a flat disk. Wrap in plastic wrap and refrigerate for 30 minutes. Preheat the oven to 400ºF. Line a sheet pan with parchment paper. Meanwhile, place the tomatoes in a large bowl. Put the parsley, basil, garlic, rosemary, salt and pepper in the bowl of a food processor process until finely minced. With the processor running, pour the olive oil down the feed tube and process until combined. Pour the mixture over the tomatoes and toss gently. Set aside. On a well-floured board, roll the dough out to a large rectangle and transfer it to the prepared sheet pan. Place a second sheet pan directly on the pastry and bake for 15 mins. Remove the top sheet pan and pierce the pastry in many places with a fork. Bake for another 10 mins, until lightly browned. Lower the oven to 375 degrees. Brush the mustard on the crust. Sprinkle a thick even layer of vegan mozzarella or parmesan and keep some for the top. Place overlapping tomatoes in rows on top. Bake for 30 minutes. Cool slightly, cut into squares, and serve and enjoy.