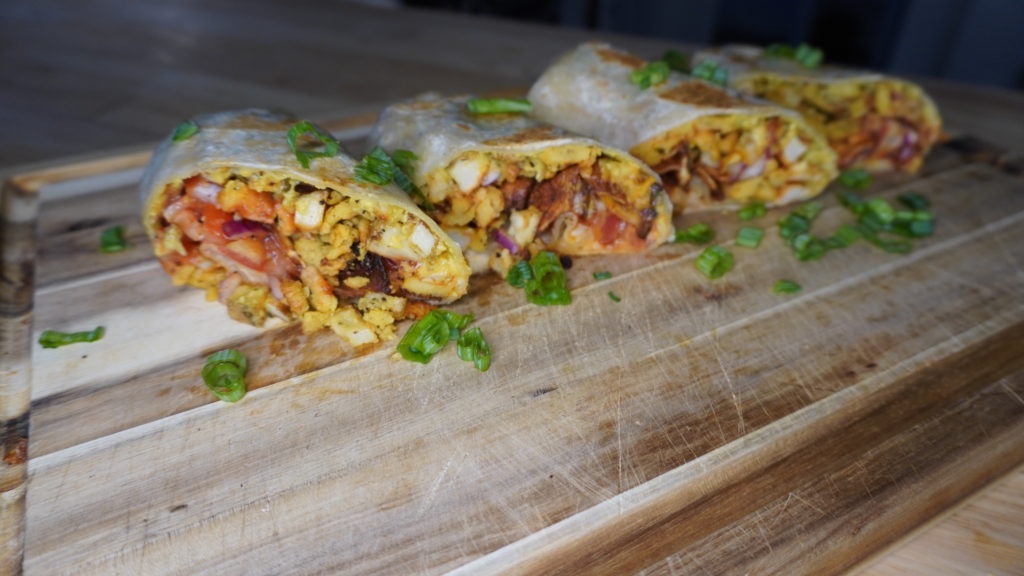 INGREDIENTS
Tortilla of choice
For Potatoes:
2 medium sized Russet potatoes (diced)
Salt
Pepper
Onion powder
For "eggs"
1/2 cup chickpea flour
1/2 cup water
1 tsp salt + pepper
1/3 cup nutritional yeast
For "cheese"
For Mushroom "bacon"
6 king oyster mushroms
1 tsp salt, pepper, garlic, onion powder, and smoked paprika
For pico de gallo:
2 roma tomatoes diced
1-2 diced jalapeño
1/4 diced red onion
Salt to taste
Juice of a lime
"Cheese":
3 cloves of minced garlic
1/2 onion, chopped
1 can of full fat coconut milk
1/2 cup cashews
1 & 1/3 cups of plant milk (recommend unsweetened almond or cashew)
3/4 cup of Nutritional yeast
Salt & pepper to taste
1 tbs vegan butter (optional)
1 tbs turmeric (for color, also optional)
INSTRUCTIONS:
Dice your potatoes, rinse them under cold water to remove excess starch, dry with a paper towel and toss with oil and seasonings, transfer to parchment lined baking tray and roast at 400ºF for 15-20 mins. For mushrooms, slice lengthwise into strips, toss with oil and seasonings and air fry for 18 mins at 370ºF. Prep "cheese" sauce. Prep garlic and onion. Put plant milk, cashews, and nutritional yeast in a blender, process until combined. Set aside. Sweat garlic and onion in separate pan. Strain off cheese sauce mixture into the pan and add the coconut milk. Season with salt, pepper and a little turmeric. Simmer until it coats the back of a spoon. For the pico, dice all ingredients and transfer to a bowl, season with salt and lime to taste. For the "eggs", combine the chickpea flour and water, add salt and nutritional yeast, whisk with a for until combined. Cook in a nonstick skillet until bubble form on top like a pancake, flip and cook on the other side. Once cooked on both sides, chop with your spatula to form scrambled egg-like consistency. Heat tortilla, assemble and enjoy!