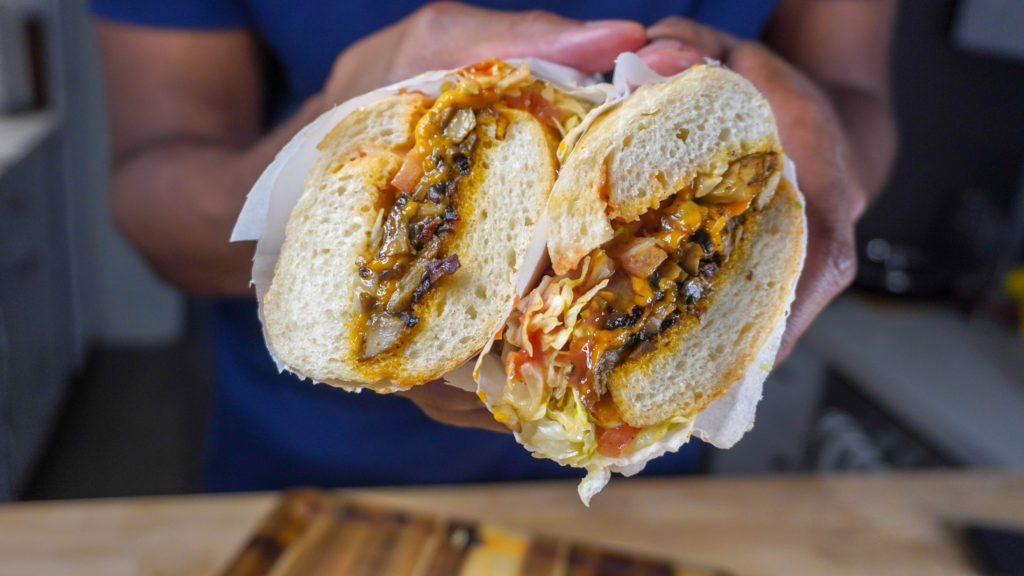 Time to flip this bodega classic into a plant based one. This is a super satisfying and downright delicious sandwich whether you're vegan or not. Definitely give this one a go!
INGREDIENTS:
2 whole portobello mushrooms finely chopped
1/3 white onion diced
1/2 tomato sliced
1/4 head of iceberg lettuce shredded
1 tsp paprika, garlic powder
1/2 tsp salt
Vegan cheese slices
Mayo
Ketchup
Hero roll
INSTRUCTIONS
Finely chop your portobellos and transfer to a hot griddle or skillet. Let the mushrooms sweat for about 5 mins before adding your diced onion and seasonings. Stir fry until crisp. Form the stir fry into a rectangle shape to add cheese slices and cover to melt. Meanwhile slice tomatoes and shred lettuce. Prep your hero roll. Uncover mushrooms and transfer to sliced hero roll. Add mayo + ketchup to top layer of the roll and add the tomatoes filled by the lettuce. Serve and enjoy!