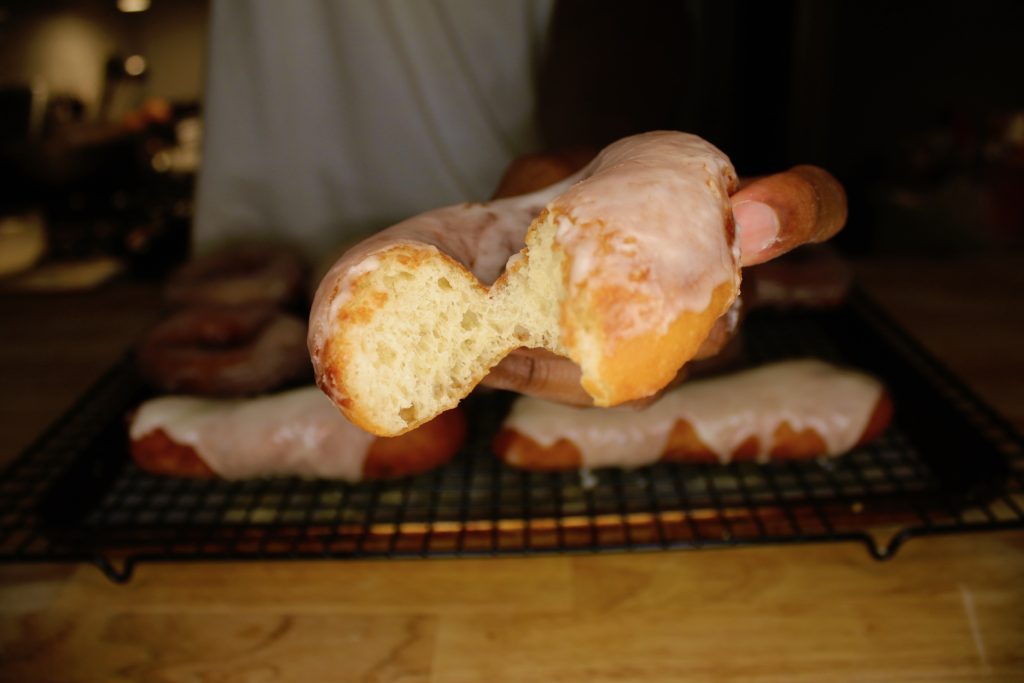 INGREDIENTS:
3 & 3/4 flour of choice
1/4 cup melted vegan butter
1/4 sugar
Pinch of salt
2 tsp active dry yeast
1 & 3/4 cup plant milk (room temp – luke warm)
Oil for frying (recommend avocado or grapeseed)

For Glaze:
2 cups powdered sugar
1 tbs maple syrup
2 tsp vanilla extract
1/4 cup plant milk

INSTRUCTIONS:

In a small bowl mix plant milk, vegan butter, and active dry yeast. Set aside for yeast activation. Meanwhile add flour and sugar to standing mixer with dough hook or mixing bowl. Whisk to incorporate. Once yeast is activated, add wet mix to dry. If using standing mixer, let mix on medium speed for 5 mins. If using a bowl make a well in center of dry and mix until incorporated and then knead for 6 mins. You want dough to be sticky but not wet. Once kneaded transfer to lightly oiled bowl and cover to proof for 1 hour. Once proofed, turn out dough and roll to desired thickness. Cut out donut shapes and set aside to proof for 1 hour. Once proofed, fry in large pot until golden on each side. Repeat for remainder of donuts. Once fried, make icing with powdered sugar plant milk, maple syrup, and vanilla. Dip donuts in icing. Serve and enjoy!