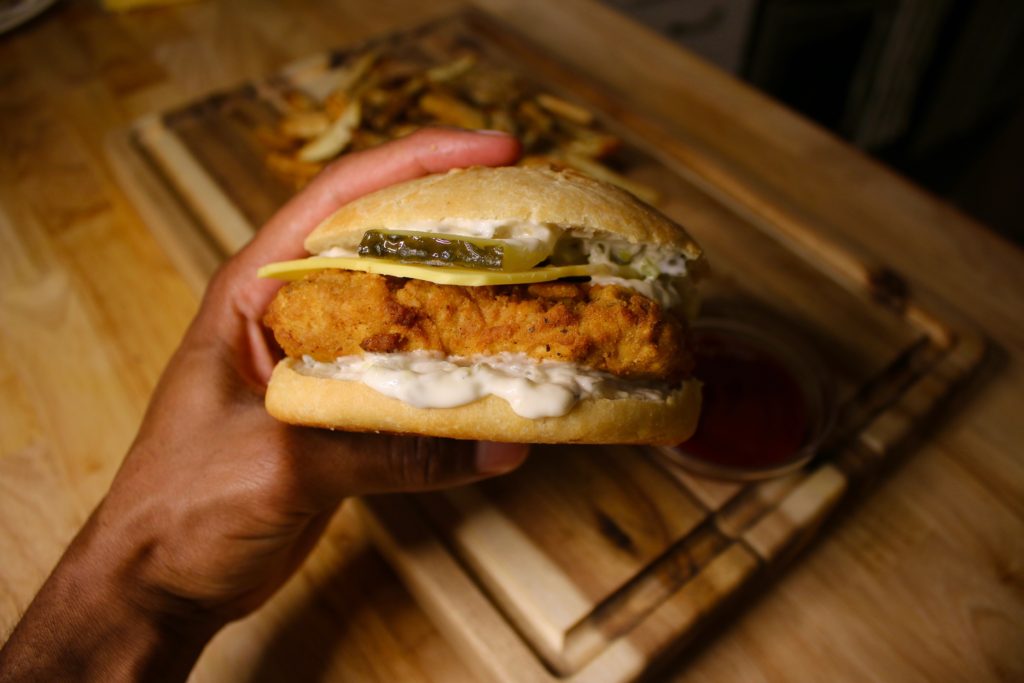 INGREDIENTS:
For patty (GF):
2 cans palm of hearts
1 can artichoke hearts
1/2 cup chickpeas
1 cup chickpea flour
1 tsp each:
Salt
White pepper
Garlic powder
Onion powder
Celery salt
Wet batter (GF):
1 cup chickpea flour
Enough water to make a homogeneous, thick pancake-like batter
Dry batter (GF):
1 1/2 – 2 cups chickpea flour
2 tsp salt and pepper
Tartar sauce:
2 tbs vegan Mayo
1 tbs relish
1 1/2 tsp lemon juice
Avocado or grapeseed oil for frying
INSTRUCTIONS:
Add the hearts of palm, artichoke hearts, and chickpeas to a food processor and pulse until combined but still chunky. Transfer mixture to a large bowl, add the flour and seasonings and mix until combined and you are able to form a patty. Shape patties and lay each out on a parchment lined baking sheet. Place tray in the freezer for 30-40 minutes or until firm enough to handle without losing shape. Prep batters.
Coat patty in wet batter then dry to fully coat. Repay with remaining patties. Heat a pan with oil filled about a third of the way and fry on both sides until golden on each side. Remove from oils and place on a paper towel lined plate. Make tartar sauce and assemble with bread and vegan cheese slice of your choice. I used @violife cheddar slices. Enjoy!