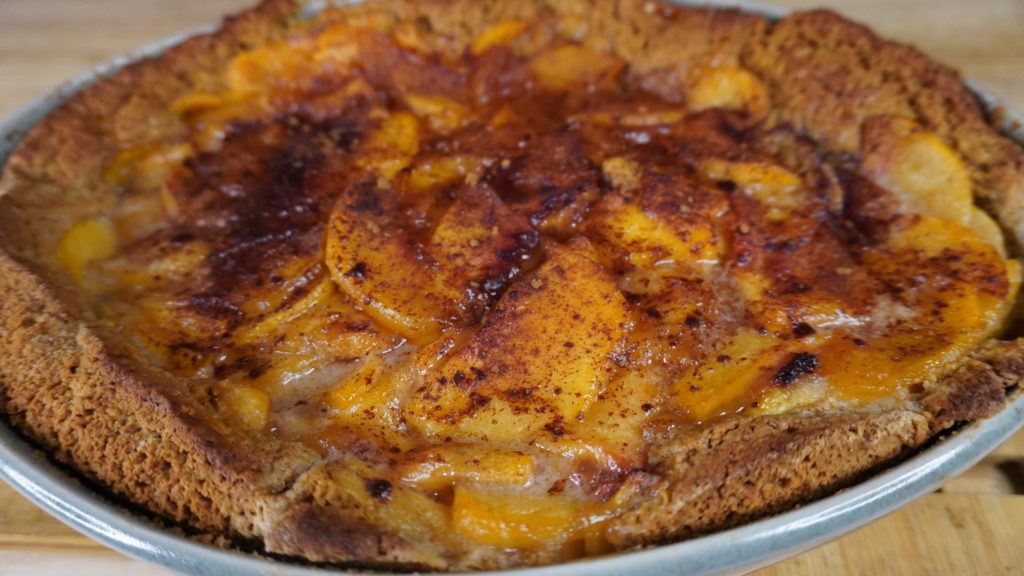 Ingredients
For Filling:
5 fresh peaches (about 4 cups sliced)
2/3 cup coconut sugar/monkfruit sweetener/ sugar
1/4 tsp salt
For Crust
1/2 cup melted vegan butter
1 cup flour (can be swapped for GF)
3/4 cup brown sugar(can sub with coconut sugar or monkfruit)
1 tbsp baking powder
1/4 tsp salt
1/2 cup plant milk
2 tbsp maple syrup
1 tsp vanilla extract
Cinnamon to taste
Instructions
Preheat oven to 350ºF. Peel the peaches. Cut them in half and slice into equal size pieces. In a large skillet, add the peaches, sugar and salt over medium heat. Stir and cook for about 5 minutes until slightly tender. Remove and set aside. In a mixing bowl, add the flour, brown sugar, baking powder, and salt. Whisk together. Then add the maple syrup, vanilla, and plant milk. Stir to combine until batter forms but be careful to no over mix, it's ok if slightly lumpy. Pour the melted butter in the bottom of you baking dish and spread out to make an even layer. Pour the batter into the dish over the butter and gently spread even but don mix together. Pour the cooked peaches and juice over top of the mixture. Sprinkle with ground cinnamon on top. Bake for 35-45 minutes. Let cool and serve.