There are many parts of different plants that get thrown out without even thinking about it but there are so many way to use what's on the plant and often times these bits that are thrown out have a lot of nutritional value. Try using more of what you normally would thrown out starting with this cauliflower.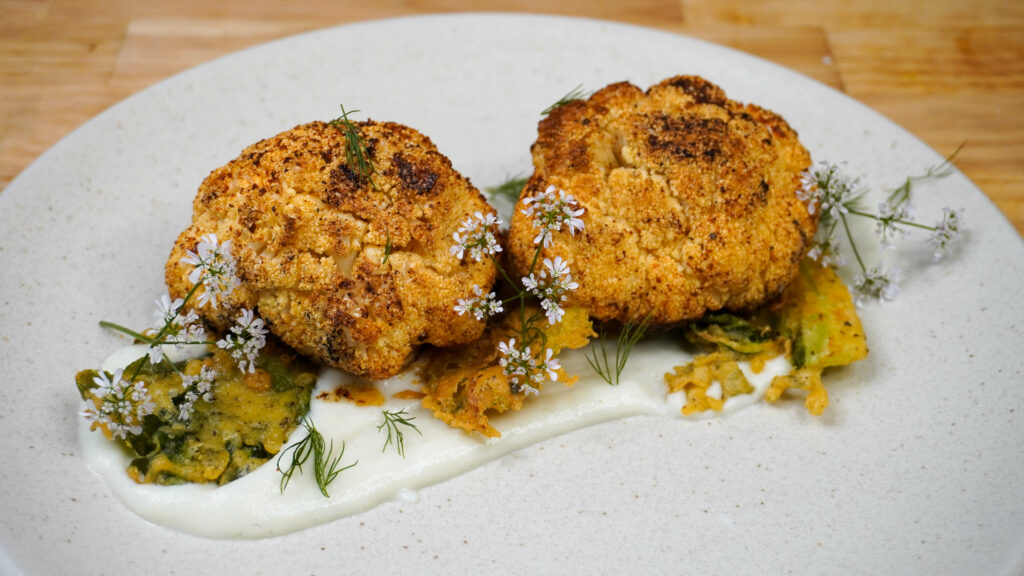 For roasted florets
Oil to coat
1 tsp each:
Salt
pepper
Smoked paprika
Garlic powder
Onion powder
For fried leaves
1/2 cup chickpea flour
1 tsp each:
Salt
pepper
Dried thyme
Dried parsley
Garlic powder
Onion powder
1/3 cup water
For Puree
1/2 head of cauliflower
1 heaping tbs of vegan butter or cream cheese (I used @montysnyc cream cheese)
1/2 cup coconut milk
1 tsp each
Salt
White pepper
INSTRUCTIONS
For the roasted florets, place on a baking tray, coat in oil and spices and roast at 400ºF for 30 40 mins. For fried leaves, combine wet and dry ingredients, mix and coat leave in batter. Fry until golden and crisp. For puree, boil remaining cauliflower until fork tender, add to blender along with vegan butter/cream cheese, coconut milk and spices. Blend until smooth, taste and adjust seasoning to your liking, assemble plate and enjoy.