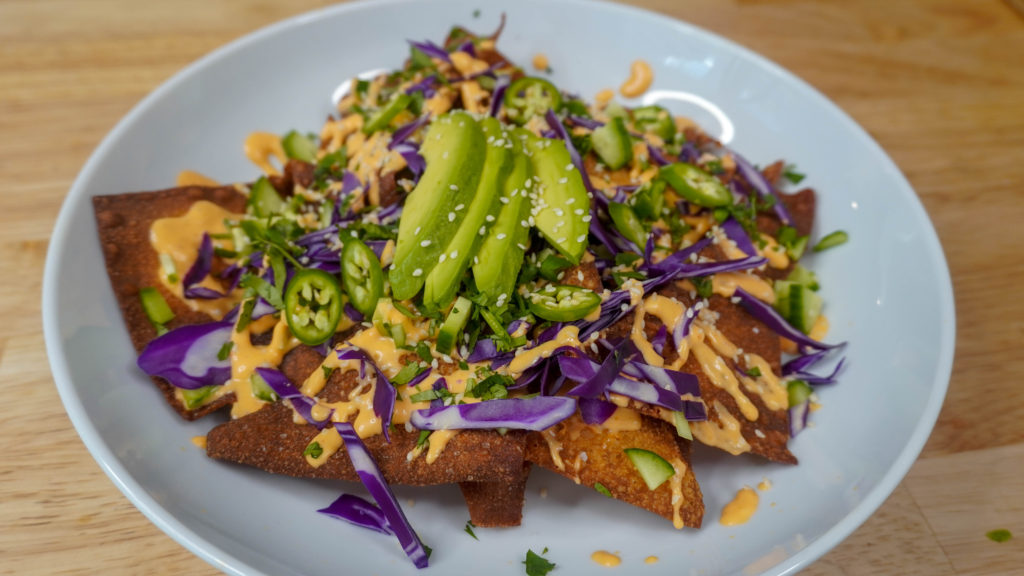 This was a really fun fusion of two cuisines to make unique dish. This has elements of umami, sweet and a bit of an acidic bite. Try this ASAP. I promise you've never had anything like it.
INGREDIENTS
Wonton wrappers
Sliced red cabbage
1/2 chopped Persian cucumber
1/4 cup chopped cilantro or parsley
1/2 sliced avocado
1 sliced serrano pepper
5 tbs vegan mayo
3 tbs sriracha
1/4 tsp sesame oil
Sesame seeds to garnish
INSTRUCTIONS
Slice your wonton wrappers diagonally and fry over med-hi heat for 1 min max or until golden and crispy. Season with salt. Slice your cabbage, cucumber, pepper, cilantro and avocado. Then in a squirt bottle add the vegan mayo, sriracha and sesame oil and shake to combine. Layer your nachos with chips, sauce, chopped veg, more sauce and top with the cilantro, avocado and sesame seeds. Serve and enjoy.